Interpretation Introduction
Interpretation:
The values for and is to be calculated for the circuit shown below.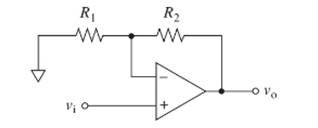 Concept introduction:
From the given circuit, the relation between the input and output voltage is obtained using virtual short and potential divider concept. The output is observed to follow the input with a gain with the relation,
Based on the input-output relation given and , we can find the values for resistances.