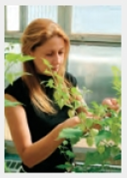 Volatile Secondary Metabolites in Plant Stress Responses In 2007, researchers Casey Delphia, Mark Mescher, and Consuelo De Moraes (pictured at left) published a study on the production of different volatile chemicals by tobacco plants in response to predation by two types of insects: western flower thrips and tobacco budworms. Their results are shown in FIGURE 30.19.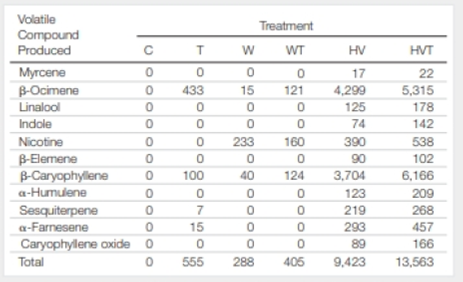 FIGURE 30.19 Volatile (airborne) compounds produced by tobacco plants in response to predation by different insects. Plants were untreated (C), attacked thrips (T), mechanically wounded (W), mechanically wounded and attacked by thrips (WT), attacked by budworms (HIV), or attacked by budworms and thrips (HVT). Values are in nanograms/day.
Which chemical was produced in the greatest amount? What was the stimulus?