Cultured Skin for Healing Wounds Diabetes is a disorder in which the blood sugar level is not properly controlled. Among other effects, it reduces blood flow to the lower legs and feet. As a result, about 3 million diabetes patients have ulcers (open wounds that do not heal) on their feet. Each year, about 80,000 require amputations.
Several companies provide cultured cell products designed to promote the healing of diabetic foot ulcers. FIGURE 31.15 shows the results of a clinical experiment that tested the effect of one such cultured skin product versus standard treatment for diabetic foot wounds. Patients were randomly assigned to either the experimental treatment group or the control group, and their progress was monitored for 12 weeks.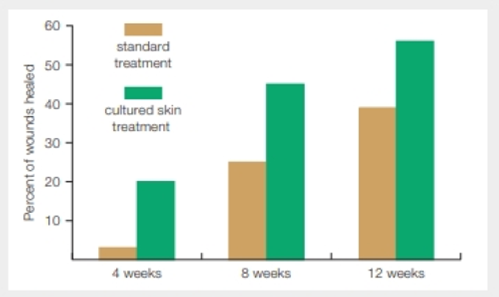 FIGURE 31.15 Treatment of diabetic food ulcers. Results of a multicenter study of the effects of standard treatment versus use of a cultured cell product for diabetic foot ulcers. Bars show the percentage of foot ulcers that had completely healed.
How early was the healing difference between the control and treatment groups obvious?