Given information:
A community bird-watching society makes and sells simple bird feeders to raise money for its conservation activities. The materials for each feeder cost , and the society sells an average of per week at a price of each. The society has been considering raising the price, so it conducts a survey and finds that for every dollar increase, it loses sales per week.
Calculation:
As calculated in part(a), the profit function is given by .
To maximize the profit, graph the profit function.
To graph a function , follow the steps using graphing calculator.
First press "ON" button on graphical calculator, press key and enter right hand side of the equation after the symbol . Enter the keystrokes .
The display will show the equation,
Now, press the key and key to produce the graph of given function in standard window as shown in Figure (1).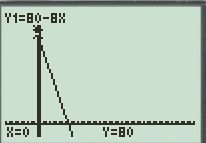 Figure (1)
As observed from the graph, the profit function has maximum value equal to at .
The price for each feeder is equal to .
Therefore, the price that society should charge for each feeder to maximize the profit is equal to and the maximum weekly profit is equal to .