Occupational Hearing Loss Frequent exposure to loud noise of a particular pitch can cause loss of hair cells in the part of the cochlea that responds to that pitch. People who work with or around noisy machinery are at risk for such frequency-specific hearing loss. Taking precautions such as using ear plugs to reduce sound exposure is important. Noise-induced hearing loss can be prevented, but once it occurs it is irreversible because dead or damaged hair cells are not replaced.
FIGURE 33.11 shows the threshold decibel levels at which sounds of different frequencies can be detected by an average 25-year-old carpenter, a 50-year-old carpenter, and a 50-year-old who has not been exposed to on-the-job noise. Sound frequencies are given in hertz (cycles per second). The more cycles per second, the higher the pitch.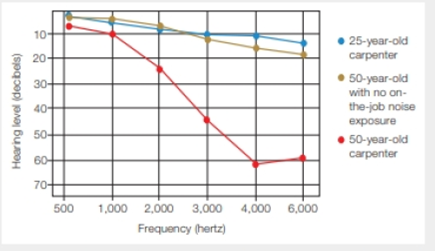 FIGURE 33.11 Effects of age and occupational noise exposure on hearing. The graph shows the threshold hearing capacities (in decibels) for sounds of different frequencies (given in hertz) in a 25-year-old carpenter (blue), a 50-year-old carpenter (red), and a 50-year-old who did not have any on-the-job noise exposure (brown).
How loud did a 1,000-hertz sound have to be for the 50-year-old carpenter to detect it?