Given:
The circular arc of length is s and the chord of length is d.
Formula used:
Circular arc length: s = , where r is the radius of the circle.
Result used:
The value of limit .
Calculation:
The given picture is shown in the below Figure 1.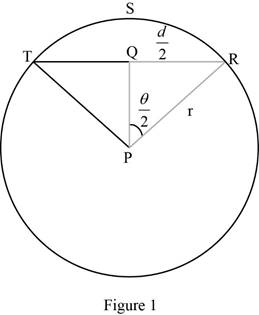 From Figure 1, .
Calculate the value of d.
From the triangle PQR as shown in Figure 1,
Therefore, the value is .
Consider .
Substitute and
Let then x will approach to as approaches to .
Use Result stated above and obtain the value of the limit.
Therefore, the value of .