Risks of Hypertension Eleni Rapsomaniki and her colleagues analyzed medical records of 1.25 million people in the United Kingdom to see how hypertension affects the risk of cardiovascular disorders. They looked at records of people who at 30 years old had no history of heart disease or stroke, although some had high blood pressure. By looking at which of these people later had a heart attack or stroke, the researchers were able to estimate the lifetime risks of these disorders in people with, and without high blood pressure. FIGURE 36.19 shows the researchers' estimates of the lifetime risk for heart attack and for transient ischemic attack (TIA), a type of stroke.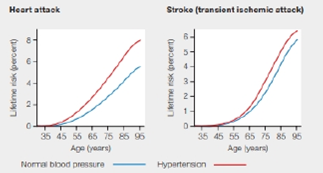 FIGURE 36.19 Lifetime risks of heart attack and TIA (a type of stroke), with and without hypertension at age 30. A transient ischaemic attack (TIA), sometimes called a mini-stroke, is caused by a temporary blockage of a blood vessel that supplies blood to the brain.
What is the risk that someone without hypertension at age 30 will have a heart attack by age 75? What is the comparable risk for someone with hypertension at age 30?