As Chapter 37 discusses, the plant hormone ABA (abscisic acid) inhibits seed germination, while any of several GAs (gibberellins) stimulate it. For hundreds of plant species, exposure to a substance in wood smoke—one of a family of plant growth regulators called karrikins, or KARs—markedly improves the germination rate. When flames destroy the existing vegetation at a fire scene, more sunlight reaches the ground. In the presence of ample sunlight, KARs apparently promote germination by enhancing the expression of genes that encode GA.
The Figure below summarizes experiments by Australian researchers studying KAR activity in mutant A. thaliana plants (called gal-3), which do not synthesize GA. The graph tracks germination activity after two groups of identical test seeds began imbibing water in a medium that contained the gibberellin GA3. All seeds were exposed to identical levels of a karrikin called KAR1. The red symbols designate seeds of mutant ABA-deficient plants that were supplied with supplementary ABA. The white symbols are ABA-deficient seeds that did not receive the supplement.
Based on this graph:
Did the presence or absence of ABA have a significant effect on the experiment's results?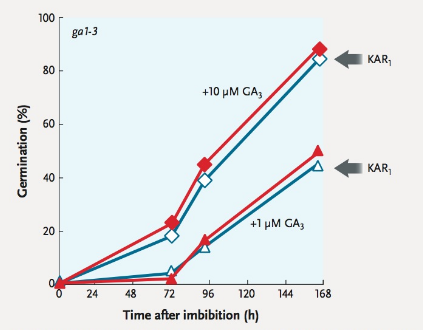 FIGURE Response of phytohormone mutants to KAR1: Germination of A. thaliana ga1-3 mutants in the presence of 1 or 10 μM GA3 6 1 μM KAR1.
Source: David C. Nelson, Julie-Anne Riseborough, Gavin R. Flematti, Jason Stevens, Emilio L. Ghisalberti, Kingsley W. Dixon, and Steven M. Smith. 2009. Karrikins discovered in smoke trigger Arabidopsis seed germination by a mechanism requiring gibberellic acid synthesis and light. Plant Physiology 149:863–873. Plant physiology by AMERICAN SOCIETY OF PLANT PHYSIOLOGISTS. Copyright 2009. Reproduced with permission of AMERICAN SOCIETY OF PLANT BIOLOGISTS in the format Textbook via Copyright Clearance Center.