Human Adaptation to a Starchy Diet The human AMY-1 gene encodes salivary amylase, an enzyme that breaks down starch. The number of copies of this gene varies, and people who have more copies generally make more enzyme. In addition, the average number of AMY-1 copies differs among cultural groups.
George Perry and his colleagues hypothesized that duplications of the AMY-1 gene would be selectively advantageous in cultures in which starch is a large part of the diet. To test this hypothesis, the scientists compared the number of copies of the AMY-1 gene among members of seven cultural groups that differed in their traditional diets. FIGURE 39.9 shows their results.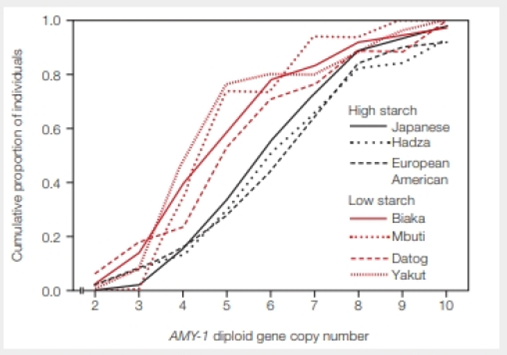 FIGURE 39.9 Number of copies of the AMY-1 gene among members of cultures with traditional high-starch or low-starch diets. The Hadza, Biaka, Mbuti, and Datog are tribes in Africa. The Yakut live in Siberia.
None of the Mbuti (rain-forest hunter–gathers) had more than 10 copies of AMY-1. Did any European Americans?