Chapter 39, Problem 3DAA
Human Adaptation to a Starchy Diet The human AMY-1 gene encodes salivary amylase, an enzyme that breaks down starch. The number of copies of this gene varies, and people who have more copies generally make more enzyme. In addition, the average number of AMY-1 copies differs among cultural groups.
George Perry and his colleagues hypothesized that duplications of the AMY-1 gene would be selectively advantageous in cultures in which starch is a large part of the diet. To test this hypothesis, the scientists compared the number of copies of the AMY-1 gene among members of seven cultural groups that differed in their traditional diets. FIGURE 39.9 shows their results.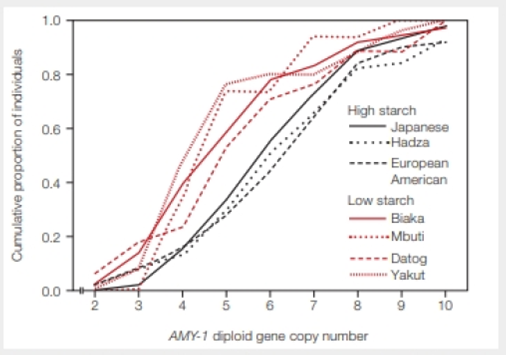 FIGURE 39.9 Number of copies of the AMY-1 gene among members of cultures with traditional high-starch or low-starch diets. The Hadza, Biaka, Mbuti, and Datog are tribes in Africa. The Yakut live in Siberia.
Do these data support the hypothesis that a starchy diet favors duplications of the AMY-1 gene?
Expert Solution & Answer
Expert Solution & Answer
Expert Solution & Answer
Students have asked these similar questions
Fatty acids from stored triacylglycerols (fat) are not available for gluconeogenesis. Speculate why we do not have the enzymes to directly convert fatty acids into glucose. Plants (especially seeds) do have enzymes to convert fatty acids into carbohydrates. Why are they so lucky?
Hypothesis: Glycans terminated in sialic acid monosaccharides may be necessary to maintain embryonic stem cells in their undifferentiated state. Imagine that you are the scientist trying to prove this hypothesis with skill genetic engineering. What classes of enzymes would you target for elimination to generate embryonic stem cells that do not carry sialic acid modifications to evaluate this hypothesis?
Palmitoleic acid, 16:1Δ⁹ hexadecaenoic acid, (16 carbon FA with one double bond )is an important fatty acid component of TAGs and cell membranes. Briefly explain the process of beta oxidation of this fatty acid and the number (only) of FADH, NADH and acetyl CoA outcome. What is the total ATP (only number) generated from this fatty acid after beta oxidation.
Your question is solved by a Subject Matter Expert
Want to see this answer and more?
Experts are waiting 24/7 to provide step-by-step solutions in as fast as 30 minutes!*
*Response times may vary by subject and question complexity. Median response time is 34 minutes for paid subscribers and may be longer for promotional offers.
8+ million solutions
Get access to millions of step-by-step textbook and homework solutions
Support from experts
Send experts your homework questions or start a chat with a tutor
Essay support
Check for plagiarism and create citations in seconds
Solve math equations
Get instant explanations to difficult math equations