You learned in this chapter that Na+/K+ active transport pumps in the plasma membrane of the axons are responsible for creating the imbalance between Na+ and K+ inside and outside of the neuron that produces the resting membrane potential. In early research studying the role of ions and the involvement of active transport of ions in neural signaling, investigators used the giant axon of a squid as a model. The diameter of a giant axon is far greater than that of a mammalian axon, which enabled researchers to isolate it easily and use it in in vitro experiments. In one early experiment, researchers investigated the active transport of Na+ out of the axon in response to the presence of cyanide. Experimentally they hooked up a section of axon to a syringe, immersed the axon in artificial seawater, introduced radioactive 22Na (as 22NaCl) into the axon, and then quantified the transport of 22Na out through the axon's plasma membrane. The rate of 22Na transport out of the axon was determined by measuring the radioactivity released into the fluid sur- rounding the axon over a period of time. The Figure shows the results of the experiment.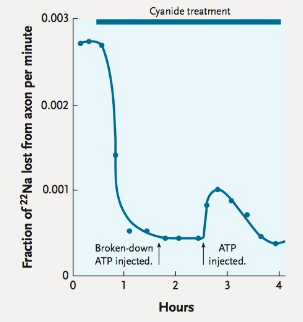 What is the effect of injecting intact ATP on the transport of Na1 out of the cyanide-treated axon? What does this result mean with respect to Na1 active transport?
Source: P. C. Caldwell et al. 1960. The effects of injecting "energy-rich" phosphate compounds on the active transport of ions in the giant axons of Loligo. The Journal of Physiology 152:561–590.
© Cengage Learning 2017