For the past several years, Jeff Horton has operated a part-time consulting business from his home. As of April 1, 2019, Jeff decided to move to rented quarters and to operate the business, which was to be known as Rosebud Consulting, on a full-time basis. Rosebud Consulting entered into the following transactions during April: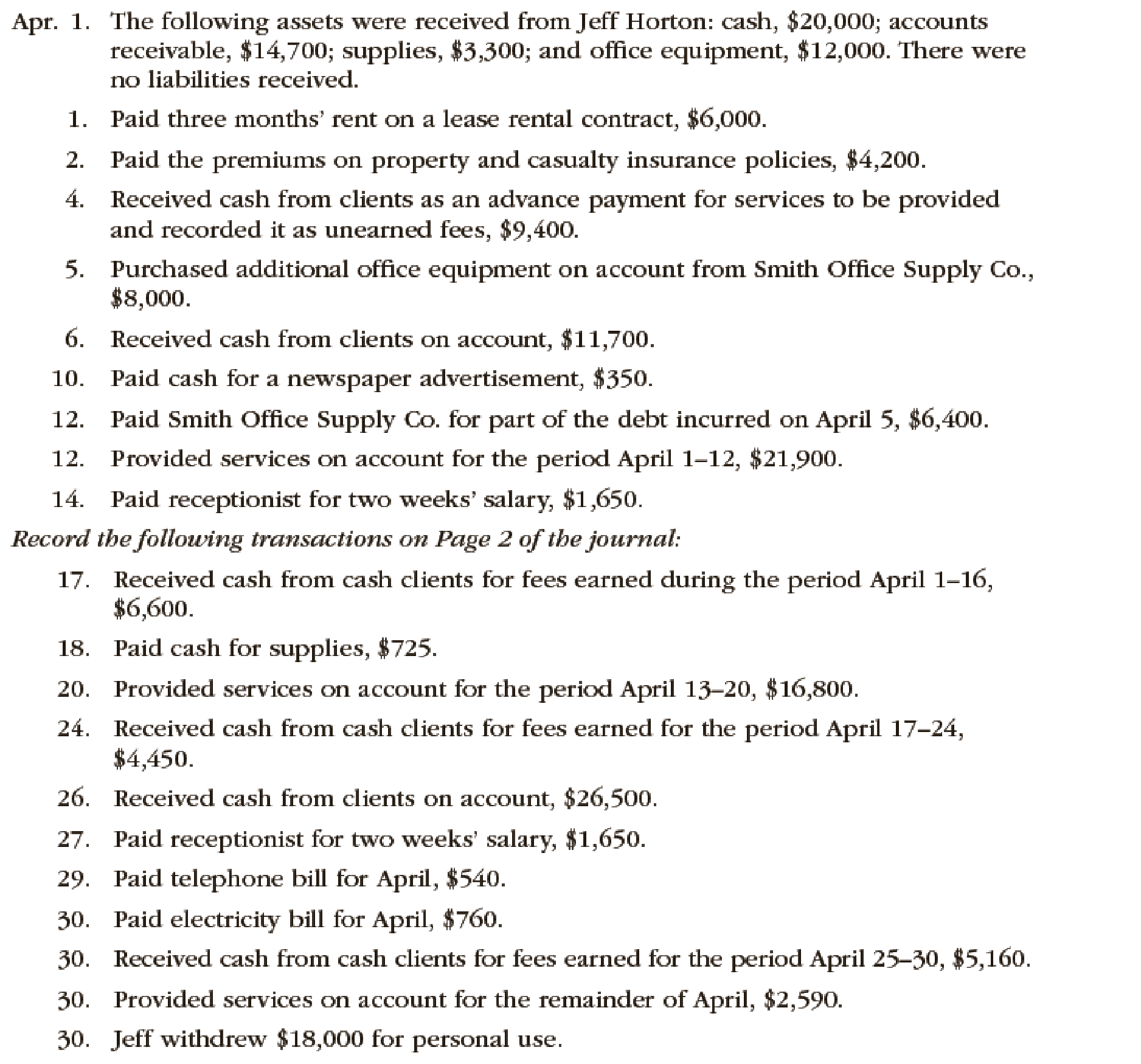 Instructions
1. Journalize each transaction in a two-column journal starting on Page 1, referring to the following chart of accounts in selecting the accounts to be debited and credited. (Do not insert the account numbers in the journal at this time.)

2. Post the journal to a ledger of four-column accounts.
3. Prepare an unadjusted trial balance.
4. At the end of April, the following adjustment data were assembled. Analyze and use these data to complete parts (5) and (6).

a. Insurance expired during April is $350.
b. Supplies on hand on April 30 are $1,225.
c. Depreciation of office equipment for April is $400.
d. Accrued receptionist salary on April 30 is $275.
e. Rent expired during April is $2,000.
f. Unearned fees on April 30 are $2,350.

5. (Optional) Enter the unadjusted trial balance on an end-of-period spreadsheet and complete the spreadsheet.
6. Journalize and post the adjusting entries. Record the adjusting entries on Page 3 of the journal.
7. Prepare an adjusted trial balance.
8. Prepare an income statement, a statement of owner's equity, and a balance sheet.
9. Prepare and post the closing entries. Record the closing entries on Page 4 of the journal. Indicate closed accounts by inserting a line in both Balance columns opposite the closing entry.
10. Prepare a post-closing trial balance.