Birth Defect Multiple Birth Carrying multiple offspring at the same time increases the risk of some birth defects. FIGURE 42.16 shows the results of Yiwei Tang's study of birth defects reported in Florida from 1996 to 2000. Tang compared the incidence of various defects among single and multiple births. She calculated the relative risk for each type of defect based on type of birth, and corrected for other difference that might increase risk such as maternal age, income, race, and medical care during pregnancy. A relative risk at less than 1 means that multiple births pose less risk of that defect occurring. A relative risk greater than 1 means multiple births are more likely to have a defect.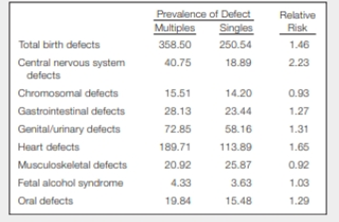 FIGURE 42.16 Prevalence, per 10,000 live births, of various types of birth defects among and single birth. Relative risk for each defect is given after researchers adjusted for the mother's age, race, previous adverse pregnancy, as well as the infant's sex and number of siblings.
Was that defect more or less common in the multiple birth group?