Chapter 4.2, Problem 40ES
Scholarship Awards The members of a scholarship committee have ranked four finalists competing for a scholarship in order of preference. The results are shown in the preference schedule below.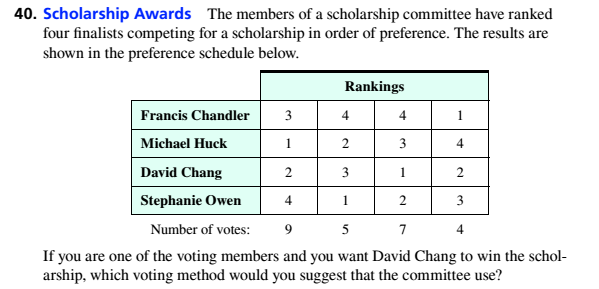 If you are one of the voting members and you want David Chang to win the scholarship, which voting method would you suggest that the committee use?
Expert Solution & Answer
Expert Solution & Answer
Expert Solution & Answer
Your question is solved by a Subject Matter Expert
Want to see this answer and more?
Experts are waiting 24/7 to provide step-by-step solutions in as fast as 30 minutes!*
*Response times may vary by subject and question complexity. Median response time is 34 minutes for paid subscribers and may be longer for promotional offers.
8+ million solutions
Get access to millions of step-by-step textbook and homework solutions
Support from experts
Send experts your homework questions or start a chat with a tutor
Essay support
Check for plagiarism and create citations in seconds
Solve math equations
Get instant explanations to difficult math equations