Iguana Decline In 1987, Martin Wikelski began a long-term study of marine iguanas in the Galápagos Islands. He marked iguanas on two islands—Genovesa and Santa Fe—and collected data on how their body size, survival, and reproductive rates varied over time. He found that because iguanas eat algae and have no predators, deaths usually result from food shortages, disease, or old age. In January 2001, an oil tanker ran aground and leaked a small amount of oil into the waters near Santa Fe. FIGURE 44.3 shows the number of marked iguanas that Wikelski and his team counted in their study populations just before the spill and about a year later.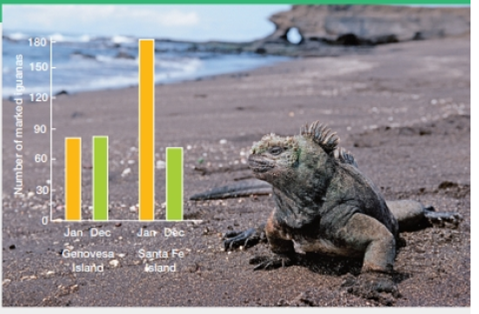 FIGURE 44.3 Shifting numbers of marked marine iguanas on two Galápagos islands. An oil spill occurred near Santa Fe just after the January 2001 census (orange bars). A second census was carried out in December 2001 (green bars).
How much did the population size on each island change between the first and second census?