Formula used:
The newton's formula is,
Given:
The initial approximation is .
The function is .
Calculation:
Calculate the derivative of .
The value of at is,
Calculate the value of at
Calculate by using Newton's method.
.
Set , and obtain the value of .
Substitute and ,
Therefore, the second approximation to the root of the given equation is .
Graph the given function and its tangent line at the point as shown below in Figure 1.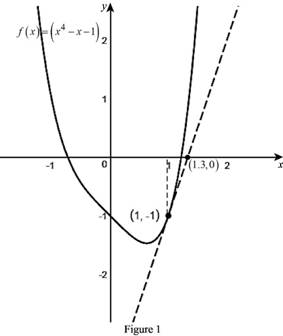 From Figure 1, it is observed that the Newton's method achieve the tangent line at and it intersects -axis at .
Moreover, from the graph, it is noticed that the tangent line gives the second approximation at .