Given information:
The function is and the graph of is shown below: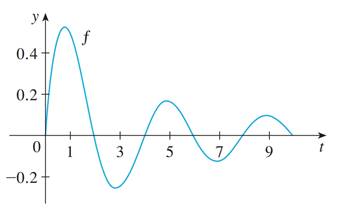 Concept used:
The fundamental theorem of calculus, part 1 is defined by,
If is continuous on , then the function defined by,
   is an antiderivative of , that is for .
Using Part 1 of the Fundamental Theorem of Calculus,
   [since, is continuous and ]
Since, a function has a local maximum or local minimum at a point if and only if the first derivative of a function is equal to zero at .
Hence, the function has a local maximum and minimum at a point where that is is concave up and concave down respectively and touches the -axis.
From the graph provided in the question, it can be observed that is concave up between , and and is concave down between and .
Therefore,
The value of at which the local maximum and minimum values of occur at 2, 6 and 10 and at 4 and 8 respectively.