Energy Efficiency of Biofuel Production Most of the plant material currently used for biofuel production consists of food crops—mainly corn, soybeans, and sugarcane. In 2006, David Tilman and his colleagues published the results of a 10-year study comparing the net energy output of various biofuels. The researchers grew a mixture of native perennial grasses without irrigation, fertilizer, pesticides, or herbicides, in sandy soil that was so depleted by intensive agriculture that it had been abandoned. They measured the usable energy in biofuels made from the grasses, and also from com and soy, then measured the energy it look to grow and produce biofuel from each kind of crop (Figure 6.1).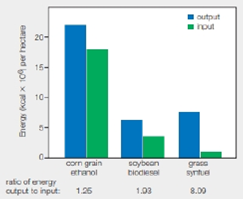 FIGURE 6.1 Energy input and output of biofuels made from three different crops. One hectare is about 2.5 acres.
About how much energy did ethanol produced from one hectare of corn yield? How much energy did it take to grow the corn to make that ethanol?