Chronic Mastitis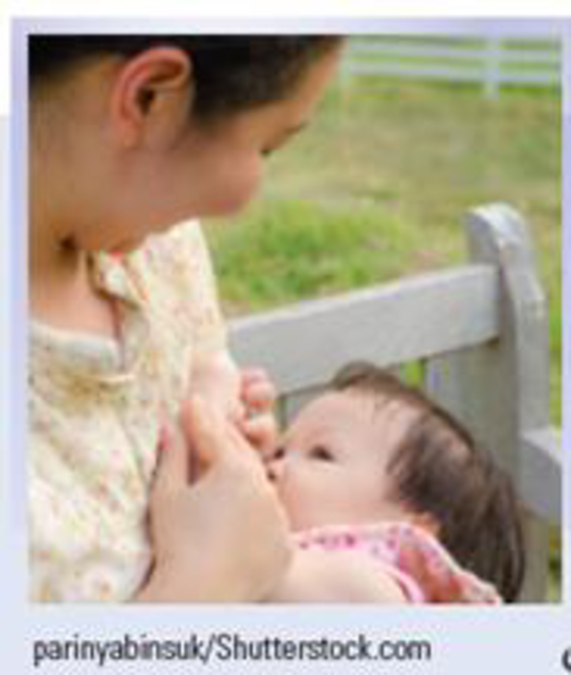 This was an unremarkable first pregnancy for 29-year-old Barbara Ann. Barbara Ann has reported experiencing "a little" breast enlargement during her pregnancy.
Her infant is first put to the breast at 2 hours postpartum, and the infant latches well according to mom, and suckles vigorously. The infant nurses every 2 hours over the first 3–4 days postpartum. Barbara Ann's breasts became noticeably fuller during the third postpartum day, and by the fourth postpartum day they are painfully engorged. In addition, Barbara Ann reports painful, burning, cracked nipples. The engorgement makes it difficult for her baby to latch at the breast. The baby becomes irritable, and Barbara Ann experiences a significant amount of pain. A lactation consultant gives Barbara Ann guidelines for engorgement management.
On day 5, the engorgement is still causing discomfort. Barbara Ann's nipples have become more cracked and painful. The lactation consultant notes that the infant's latch has become shallow and tight, probably in an attempt to control the flow of milk. However, the infant shows all the signs of adequate intake, including 10 very wet and 5 soiled diapers during the 24 hours prior to the consultation.
By day 7 postpartum, Barbara Ann has mastitis. She is treated with a 7-day course of dicloxacillin. A lactation consultant assists her in achieving a proper infant latch.
By day 14, Barbara Ann is feeling much better. The mastitis has resolved, and her nipples are healing. She still has tenderness during infant feedings and a healing crack on the right side. Her breasts are still uncomfortably full and are occasionally swollen and tender.
At 3 weeks postpartum, Barbara Ann develops an inflamed area on the right breast that remains red and tender despite applying warmth and massage to the area. The lactation consultant helps Barbara Ann to position the infant in a way that allows drainage of the inflamed area and recommends she pump the affected side to relieve the discomfort. The crack on the right nipple has improved, but is still not completely healed. Barbara Ann continues to show signs of oversupply, such as breasts feeling uncomfortably full, even after feeding, and excessive milk leakage between feedings. The lactation consultant provides Barbara Ann with techniques to decrease her overproduction.
After 10 days of persistent burning pain in the nipple area, Barbara Ann is treated with fluconazole for a yeast infection. Seven days after starting the fluconazole, a topical nystatin ointment is prescribed for her nipples and an oral suspension for her infant.
At 7 weeks postpartum, Barbara Ann calls the lactation consultant to report another flare-up of mastitis. Her health care provider prescribes a 10-day course of dicloxacillin. Barbara Ann is still treating her nipples with nystatin ointment. At 8 weeks postpartum her mastitis resolved; her nipple pain is still present, but improving. Barbara Ann is nursing the infant on one side only per feeding and reports that the infant latches better when she is in a more reclined position.
Questions
List at least two possible nutrition diagnoses for this case.