Breastfeeding Premature Infants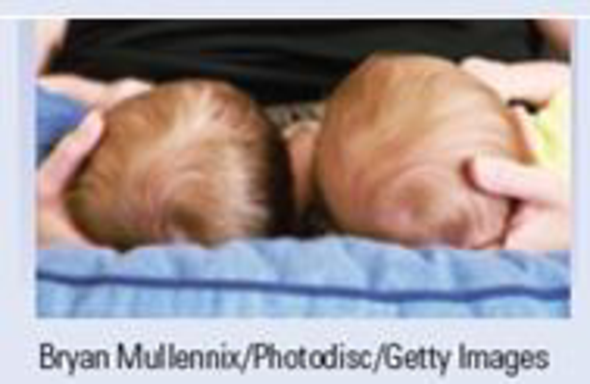 Thirty-five-year-old Stacey delivers twin boys at 30 weeks' gestation: baby Andrew is 2 pounds, 9 ounces, and 13.5 inches long; baby Mark is 1 pound, 13 ounces, and 14 inches long. Stacey had a difficult pregnancy that included severe nausea and vomiting, heartburn, preeclampsia, and preterm labor.
Stacey is very committed to breastfeeding and was able to use a hospital-grade electronic breast pump approximately 6 hours after delivery. She pumps every 2–3 hours or 8–9 times daily in order to establish her milk supply. At the end of the first week, Stacey is pumping about 14–16 ounces/day per baby, and by 3½ weeks she is pumping 4–5 ounces per breast at each pumping. Stacey wakes at night to pump when she is full. She has placed the pumping equipment by the bed and become adept at pumping, getting out of bed only to put the milk in the refrigerator. At 2 weeks postpartum, Stacey experiences a plugged duct and has difficulty emptying the right breast for 2 days.
The twin boys have suffered the usual preterm difficulties with breathing, apnea, and bradycardia. Initially the twins are tube-fed. As their condition improves, baby Andrew is first put to breast 3 weeks after his birth, and baby Mark several weeks later. Baby Mark has more difficulty learning to latch on and suck and is growing more slowly than is his brother. Multiple interventions are used to achieve breastfeeding success. On advice from a lactation consultant, Stacey uses a nipple shield to help baby Mark latch on. In response to slow weight gain in baby Mark, the lactation consultant recommends that the baby receive hindmilk, which is often higher in fat and calories.
Mark and Andrew are released from the hospital a day after their due date. Stacey continues using the nipple shield for several weeks with Mark, trying without the nipple shield every few days. After 3 weeks at home, baby Mark is able to latch on without the nipple shield. The twins are breastfed and also receive up to 3 bottles of fortified expressed breast milk or premature infant formula per day for the first 2 months at home. The babies take feedings equally well from bottle or breast.
Questions
Identify at least one nutrition intervention for each diagnosis listed.