Draw the Figure 1 using the procedure as follows:
Draw a curve C for equation .
Here,f is a continuous function and .
Divide the curve as a polygonal curve with n number of subintervals at the interval .
The endpoint is . The equal width of subinterval as .
The point lies on the curve for and the vertices of polygon
Show the curve as in Figure 1.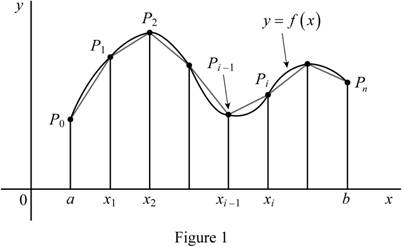 Refer Figure 1,
If the limit exists, the length of the curve C with equation , for as the limit of the lengths of these inscribed polygons.
Thus, the length of the curve is defined.