Interpretation:
The following observation has to be explained - exists as both liquid and gas at the same conditions of temperature and pressure.
Concept introduction:
Intermolecular forces are the interactions between the molecules in a compound.
The physical state of a substance depends on the strength of the intermolecular forces present in the molecules of that substance.
Very strong intermolecular forces bind the molecules together tightly and form "solids". The molecules are held together strongly in solids that they hardly move from their respective position.
Liquid molecules have relatively low strength of intermolecular forces between them. Thus they move freely and because of this liquids do "flow".
Gaseous substances have weakest intermolecular forces between them. Usually intermolecular forces are considered negligible in case of gaseous compounds. Gaseous molecules exhibit very rapid and random movement.
The classification of intermolecular forces can be summarized as follows –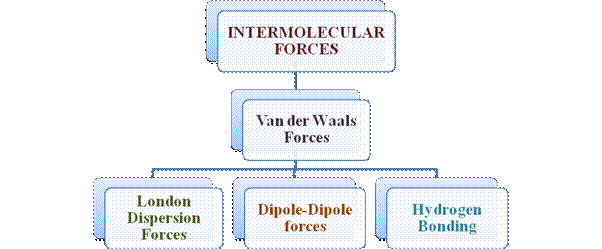 Figure 1
There are three types of intermolecular forces - London dispersion forces, dipole-dipole forces and hydrogen bonding. These forces are collectively known as Van der Waals forces.
London dispersion forces exist in non-polar covalent compounds.
Dipole-dipole forces present in polar covalent compounds.
Hydrogen bonding is formed in polar covalent compounds containing Hydrogen and other high electronegativity like Fluorine, Oxygen or Nitrogen. It is relatively the strongest one.