Figure 9.12 is a systems flowchart for the first few steps in an order entry process. Some but not all of the controls have been annotated on the flowchart. Figure 9.13 is a partially completed control matrix for the system in Figure 9.12. Some controls are not on the matrix at all. For some controls, not all of the cells have been completed. Exhibit 9.6 is a partially completed set of explanations of the cell entries in Figure 9.12.
Required:
a. Annotate the flowchart to indicate additional present and missing controls. (Some controls that are on the matrix are not annotated on the flowchart. Others are missing from both the flowchart and the matrix.)
b. Complete the control matrix by adding new controls (ones you added to the flowchart or ones that were on the flowchart but not
FIGURE 9.12 Flowchart to Accompany Problem 9-5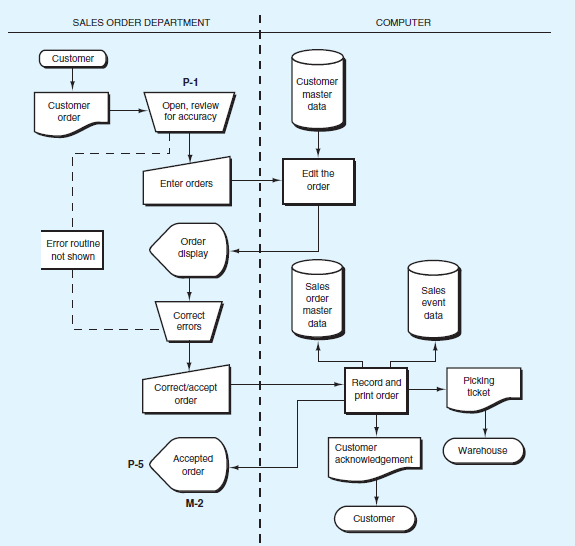 EXHIBIT 9.6 Explanation of Cell Entries for the Control Matrix in Figure 9.13 to Accompany Problem 9-5
P-1: Review document for accuracy.
P-2: Preformatted screens.
• Effectiveness goals A and B, efficient employment of resources: By structuring the data entry process, automatically populating fields, and preventing errors, preformatted screens simplify data input and save time (effectiveness goals A and B), allowing a user to input more data over a period of time (efficiency).
• Input accuracy: As each data field is completed on a preformatted screen, the cursor moves to the next field on the screen, thus preventing the user from omitting any required data set. The data for fields that are automatically populated need not be manually entered, thus reducing input errors. Incorrectly formatted fields are rejected.
P-4: Procedures for rejected inputs.
P-5: Confirm input acceptance.
M-2: Manually reconcile batch totals.
Security of resources: Agreement of the batch totals at this point would ensure that only valid source documents have been input and that invalid picking tickets have not been sent to the warehouse leading to inappropriate shipments of inventory.
Input validity, input completeness, input accuracy: Agreement of the batch totals at this point would ensure that only valid source documents comprising the original batch have been input (input validity), that all source documents were input (input completeness), and that data elements appearing on the source documents have been input correctly (input accuracy).
Update completeness, update accuracy: Reconciliation of batch totals from before input to those after update would ensure a complete and accurate update of the master data.
FIGURE 9.13 Control Matrix for Figure 9.12 to Accompany Problem 9-5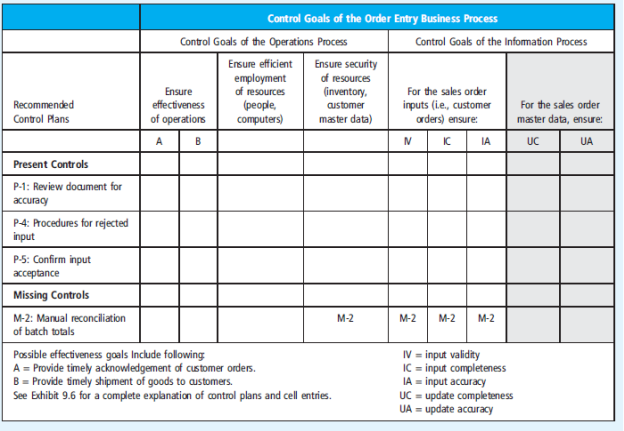 on the matrix) and by adding cell entries to controls that are already on the matrix.
c. Complete the control explanations to reflect changes that you made to the flowchart and matrix.