Modeling U.S. population The table gives the U.S. population to the nearest million tor selected years from 1950 and projected to 2050.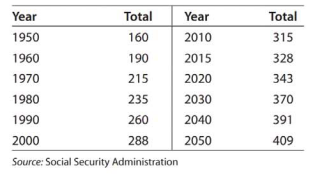 Find a cubic function that models these data, where P is the U.S. population in millions and t is the number of years past 1950. Report the model with three significant digit coefficients.

Use the part (a) result to find the function that models the instantaneous rate of change of the U.S. population.

Find and interpret the instantaneous rates of change in 2000 and 2025.