(The Rectangle class)
Following the example of the Circle class in Section 8.2,
design a class named Rectangle to represent a rectangle. The class contains:

■ Two double data fields named width and height that specify the width and
height of the rectangle. The default values are 1 for both width and height.
■ A no-arg constructor that creates a default rectangle.
■ A constructor that creates a rectangle with the specified width and height.
■ A method named getArea() that returns the area of this rectangle.
■ A method named getPerimeter() that returns the perimeter.

Draw the UML diagram for the class and then implement the class. Write a test
program that creates two Rectangle objects—one with width 4 and height 40
and the other with width 3.5 and height 35.9. Display the width, height, area,
and perimeter of each rectangle in this order.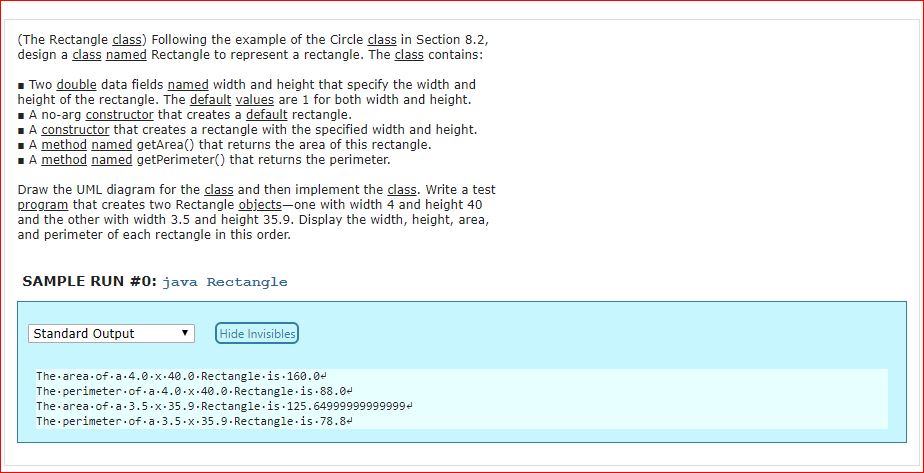 Students who've seen this question also like:
Database System Concepts
7th Edition
Author: Abraham Silberschatz Professor, Henry F. Korth, S. Sudarshan
Publisher:
McGraw-Hill Education
Want to see this answer and more?
Experts are waiting 24/7 to provide step-by-step solutions in as fast as 30 minutes!*
*Response times may vary by subject and question complexity. Median response time is 34 minutes for paid subscribers and may be longer for promotional offers.