Concept explainers
Please help me solve the given trigonometric equation.

Expert Solution
Step 1
Consider the given equation and replace the term cos(4x) using double angle trigonometric identity. We use, cos(4x) = 2cos2(2 x) – 1. This will help us have the entire equation in the form of cos(2x). We get: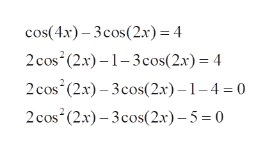 Step 2
We now have a quadratic equation in terms of cos(2x). Hence, we can first solve for cos(2 x), by solving the equation using factoring.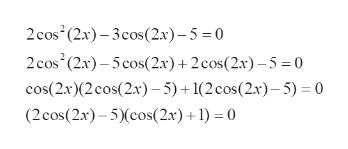 Step 3

Trending nowThis is a popular solution!
Step by stepSolved in 6 steps with 5 images
Knowledge Booster
Learn more about
Need a deep-dive on the concept behind this application? Look no further. Learn more about this topic, trigonometry and related others by exploring similar questions and additional content below.
Recommended textbooks for you