Ch 18, Problem 44
A spring with an unstrained length of 0.071 m and a spring constant of 2.4 N/m hangs vertically downward from the ceiling. A uniform electric field directed upward fills the region containing the spring. A sphere with a mass of 5.0 × 10-3 kg and a net charge of +6.6 μC is attached to the lower end of the spring. The spring is released slowly, until it reaches equilibrium. The equilibrium length of the spring is 0.058 m. What is the magnitude of the external electric field?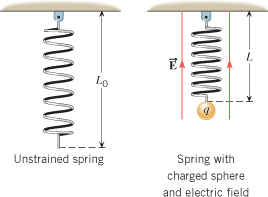 Students who've seen this question also like:
College Physics
11th Edition
Author: Raymond A. Serway, Chris Vuille
Publisher:
Cengage Learning
Want to see this answer and more?
Experts are waiting 24/7 to provide step-by-step solutions in as fast as 30 minutes!*
*Response times may vary by subject and question complexity. Median response time is 34 minutes for paid subscribers and may be longer for promotional offers.