I asked this question before but the solution was not correct and I'm really trying to figure out how to do this to get the correct answer. Please show work!
DNA typing is used to compare evidence DNA (E) left at a crime scene to two suspects
(S1 and S2). Suspect 1 is excluded by the evidence, but suspect 2 remains included. What is
the frequency of suspect 2's genotype if the allelic frequencies in the population are f(A1) =
0.1, f(A2) = 0.2, and f(A3) = 0.7, and the population is at Hardy–Weinberg equilibrium?
The answer is 0.49.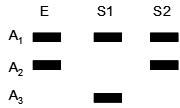 Students who've seen this question also like:
Want to see this answer and more?
Experts are waiting 24/7 to provide step-by-step solutions in as fast as 30 minutes!*
*Response times may vary by subject and question complexity. Median response time is 34 minutes for paid subscribers and may be longer for promotional offers.