Selected transactions completed by Kornett Company during its first fiscal year ended December 31, 20Y8, were as follows: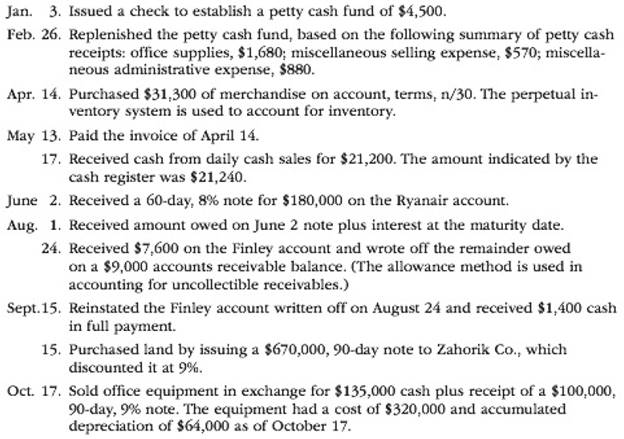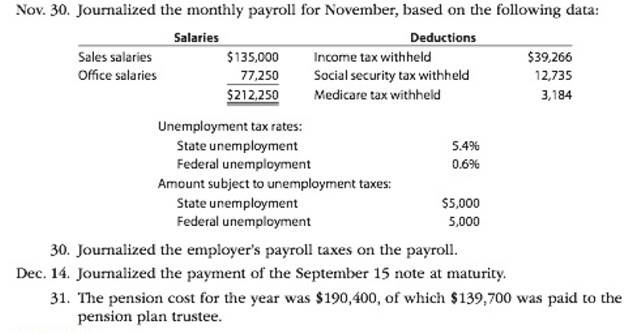 Instructions
1 Journalize the selected transactions.
2 Based on the following data, prepare a bank reconciliation for December of the current year:
a Balance according to the bank statement at December 31. $283,000.
b Balance according to the ledger at December 31, $245,410.
c Checks outstanding at December 31, $68,540.
d Deposit in transit, not recorded by bank, $29,500.
e Bank debit memo for service charges, $750.
f A check for $12,700 in payment of an invoice was incorrectly recorded in the accounts as $12,000.
3 Based on the bank reconciliation prepared in (2), journalize the entry or entries to be made by Kornett Company.
4 Based on the following selected data, journalize the adjusting entries as of December 31 of the current year.
a. Estimated uncollectible accounts at December 31, $16,000, based on an aging of accounts receivable. The balance of Allowance for Doubtful Accounts at December 31 was $2,000 (debit).
b. The physical inventory on December 31 indicated an inventory shrinkage of $3:300.
c. Prepaid insurance expired during the year, $22,820.
d. Office supplies used during the year, $3,920.
e. Depreciation is computed as follows:

f. A patent costing $48,000 when acquired on January 2 has a remaining legal life of 10 years and is expected to have value Tor eight years.
g. The cost of mineral rights was $546,000. Of the estimated deposit of 910,000 tons of ore, 50.000 tons were mined and sold during the year.
h. Vacation pay expense for December, $10,500.
i. A product warranty was granted beginning December 1 and covering a one-year period. The estimated cost is 4% of sales, which totaled $1,900,000 in December.
j. Interest was accrued on the note receivable received on October 17.
5. Based on the following information and the pose-closing trial balance that follows, prepare a balance sheet in report form at December 31 of the current year:
The merchandise inventory is stated at cost by the LIFO method.
The product warranty payable is a current liability.
Vacation pay payable:

The unfunded pension liability is a long-term liability.
Notes payable: