Given:
The reduced amount of bismuth = 1mg.
Graph:
Let x axis for days and y axis for bismuth (mg).
Using online graphing calculator to draw the graphs for bismuth level and days as shown below Figure 1.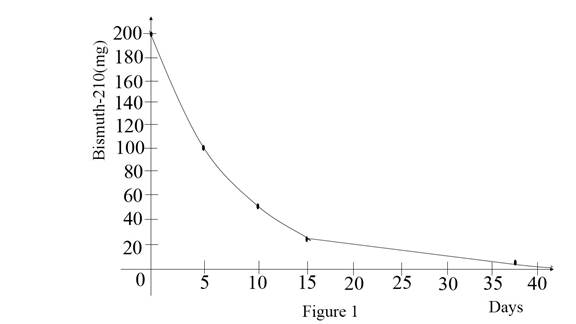 Observe the graph, an initial stage bismuth mass is 200 mg.
Then after 5 days the mass is reducing to 100 mg.
After 10 the mass is reducing to 50 mg.
After 15 days mass is reducing to 25 mg.
Therefore, the mass of bismuth is reducing when the days are increasing.
Calculation:
From the graph, the general form of bismuth after t days .
Substitute 1 for in ,
Take naturel logarithm on both sides,
Simplify further,
Therefore, the amount of bismuth mass reduced to 1mg for 38.2215 days.