I need help with this question.

Expert Solution
Step 1
To find slope of the given line, we express it in a standard form, y = mx + c, we get: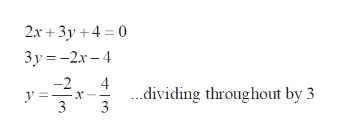 Step 2
Comparing the equation obtained above with the standard form, we get:

Step 3
If m1 and m2 are the slopes of two lines that are perpendicular to each other, then we have, m1* m2 = -1. Here, let m1 be the slope obtained above, then m1 = -2/3. Solving for m2, we get: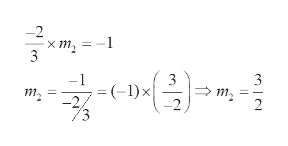 Trending nowThis is a popular solution!
Step by stepSolved in 6 steps with 6 images
Knowledge Booster
Learn more about
Need a deep-dive on the concept behind this application? Look no further. Learn more about this topic, geometry and related others by exploring similar questions and additional content below.
Recommended textbooks for you
Elementary Algebra
Author:
Lynn Marecek, MaryAnne Anthony-Smith
Publisher:
OpenStax - Rice University
College Algebra
Author:
James Stewart, Lothar Redlin, Saleem Watson
Publisher:
Cengage Learning