Absolute maximum:
A function f has an absolute maximum at if in the domain D of f. The number is called the maximum value of f on D.
Local maximum:
A function f has local minimum at c if there is an open interval I containing c (any x near to c) such that in I.
Local maximum does not attain at extreme values.
Difference between the absolute maximum and the local maximum:
From the above definitions, the local maximum is any one of the maximum value available in the curve whereas the absolute maximum is the highest maximum of the curve. That is, the highest point of the curve is called as absolute maximum.
Therefore, it can be concluded that any absolute maximum is called as local maximum but not the vice versa.
Consider an example as shown below in Figure 1.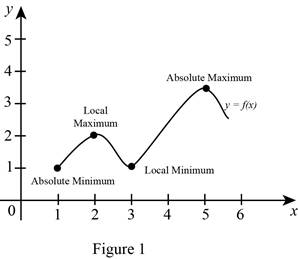 From Figure 1, it is observed that, in R.
Thus, the absolute maximum of occurs at .
Also, it can be observed that, for open interval .
Thus, the local maximum of occurs at .