A bullet of mass m1 = 10.00 g that has a velocity of v1 in the horizontal direction hits and gets fully stuck inside a block of mass m2 of 0.300 kg. That mass m2 is at the edge of a table 1.00 m above the level of the floor. After the bullet gets stuck at the block, that block does a projectile motion and lands 1.50 m in the horizontal direction to the right as shown in the figure. Ignoring air drag calculate the initial speed of the bullet.
a. 2.27 ×102 m/s
b. 1.03 ×102 m/s
c. 3.35 ×102 m/s
d. 1.38 ×101 m/s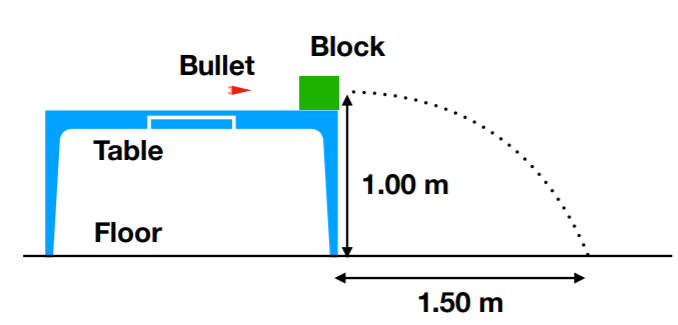 Students who've seen this question also like:
College Physics
11th Edition
Author: Raymond A. Serway, Chris Vuille
Publisher:
Cengage Learning
Want to see this answer and more?
Experts are waiting 24/7 to provide step-by-step solutions in as fast as 30 minutes!*
*Response times may vary by subject and question complexity. Median response time is 34 minutes for paid subscribers and may be longer for promotional offers.