You pull on a string with a horizontal force of magnitude Fyb = 32 N that is attached to a block of mass mb = 6.5 kg, then to the axle of a solid cylinder of mass mc = 4.0 kg and radius r = 0.4 m, then to a spring of spring constant k = 185 N/m. This is all done on an inclined plane where there is friction ( μs = 0.69 and μk = 0.40 ), and the incline angle is θ = 28 degrees. Everything starts at rest, and the spring is unstretched. The block slides down the plane, the cylinder rolls down the plane (without slipping), and the spring stretches.


First, what is the speed of the block and cylinder after you have pulled the block and cylinder 6 cm down the plane?
How far have you pulled the block and cylinder when everything stops?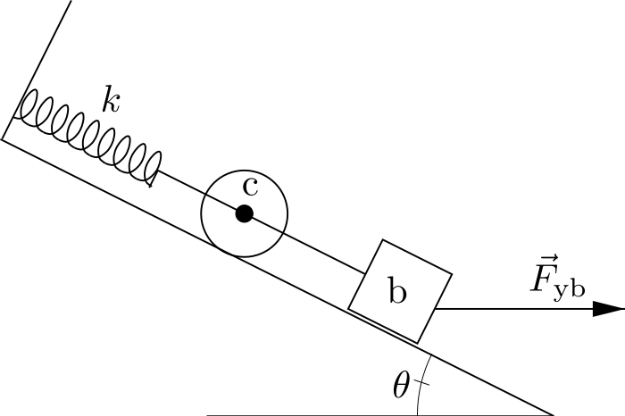 Students who've seen this question also like:
College Physics
11th Edition
Author: Raymond A. Serway, Chris Vuille
Publisher:
Cengage Learning
Want to see this answer and more?
Experts are waiting 24/7 to provide step-by-step solutions in as fast as 30 minutes!*
*Response times may vary by subject and question complexity. Median response time is 34 minutes for paid subscribers and may be longer for promotional offers.