Polymers are long chain organic compounds that are generated by many monomer units. Many monomers like alkene or other compounds contain a double bond, which on combination converted into a single bond.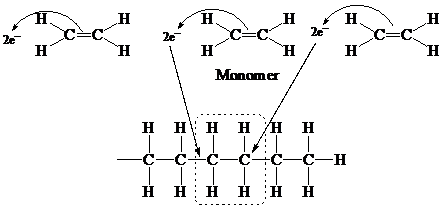 It is a complete form of polymer. All double bonds are converted into single bonds. In this process, no atom is lost or gained, but a monomer is joined to form a polymer by the addition reaction.
A simple representation of addition of monomer is .
Similarly, monomer join to form addition polymer as:
Here, it represents the polymer in the form of polyvinyl fluoride. is a synthetic organic compound, which is formed by polymerization of vinyl fluoride under pressure in the presence of a catalyst.