Evaluate alternative capital investment decisions
The investment committee of Iron Skillet Restaurants Inc. is evaluating two restaurant sites.The sites have different useful lives, hut each requires an investment of $1.000,000. Theestimated net cash flows from each site are as follows: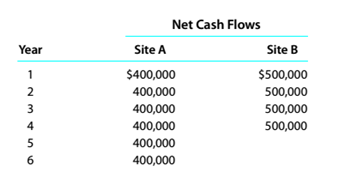 The committee has selected a rate of 20% for purposes of net present value analysis.It also estimates that the residual value at the end of each restaurant's useful life is $0,but at the end of the fourth year. Site A's residual value would be $300.000.
Instructions
For each site, compute the net present value, assuming that Site A is adjusted to afour-year life for purposes of analysis. Use the present value of $1 table appearing inthis chapter.