Decision making with job order costs
Raneri Trophies Inc. uses a job order cost system for determining the cost to manufacture award products (plaques and trophies). Among the company's products is an engraved plaque that is awarded to participants who complete a training program at a local business. The company sells the plaques to the local business for $80 each.
Each plaque has a brass plate engraved with the name of the participant. Engraving requires approximately 30 minutes per name. Improperly engraved names must be redone. The plate is screwed to a walnut backboard. This assembly takes approximately 15 minutes per unit. Improper assembly must be redone using a new walnut backboard.
During the first half of the year, Raneri had two separate plaque orders. The job cost sheets for the two separate jobs indicated the following information: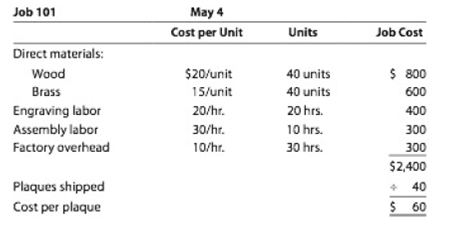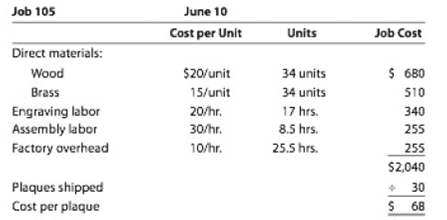 a. Why did the cost per plaque increase from $60 to $68?
b. What improvements would you recommend for Raneri Trophies Inc.