a. To construct a scatterplot of y = Satisfaction rating versus x = quality rating:
Given data represents the values of quality rating and satisfaction rating for 30 brands sold in United States.
Denote the variable satisfaction rating as y and the variable quality rating as x.
EXCEL software can be used to draw a scatterplot for y = Satisfaction rating versus x = quality rating.
Software Procedure:
The step-by-step procedure to plot a scatter diagram using EXCEL software is given below:
Open an EXCEL file.
Enter the data of Satisfaction rating in column A and name it as y.
Enter the data of Quality rating in column B and name it as x.
Select Data and go to Insert tab.
Select Scatter or Bubble chart > Scatter plot.
Click OK.
Right click on the scatterplot and click on Add trendline.
The Scatterplot is shown below: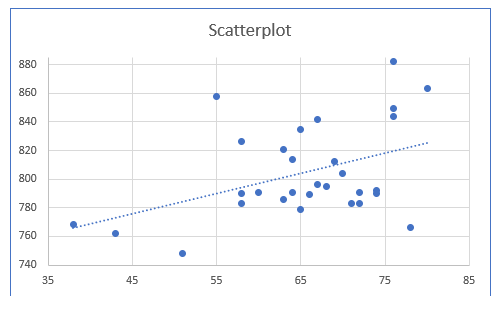 From the scatterplot it is observed that, the scatterplot has 30 points. The horizontal axis has x values from 35 to 85 and the vertical axis has y values from 740 t0 880. The points are plotted in a roughly increasing diagonal pattern starting in the bottom left corner of the diagram and ending in the upper right corner of the diagram. There is a large amount of variation about the trend.
Therefore, 3rd option is correct.