Ryan Richards, controller for Grange Retailers, has assembled the following data to assist in the preparation of a cash budget for the third quarter of the year:
a. Sales:

b. Each month, 30% of sales are for cash and 70% are on credit. The collection pattern for credit sales is 20% in the month of sale, 50% in the following month, and 30% in the second month following the sale.
c. Each month, the ending inventory exactly equals 50% of the cost of next month's sales. The markup on goods is 25% of cost.
d. Inventory purchases are paid for in the month following the purchase.
e. Recurring monthly expenses are as follows:

f. Property taxes of $15,000 are due and payable on July 15.
g. Advertising fees of $6,000 must be paid on August 20.
h. A lease on a new storage facility is scheduled to begin on September 2. Monthly payments are $5,000.
i. The company has a policy to maintain a minimum cash balance of $10,000. If necessary, it will borrow to meet its short-term needs. All borrowing is done at the beginning of the month. All payments on principal and interest are made at the end of a month. The annual interest rate is 9%. The company must borrow in multiples of $1,000.
j. A partially completed balance sheet as of June 30 follows. (Note: Accounts payable is for inventory purchases only.)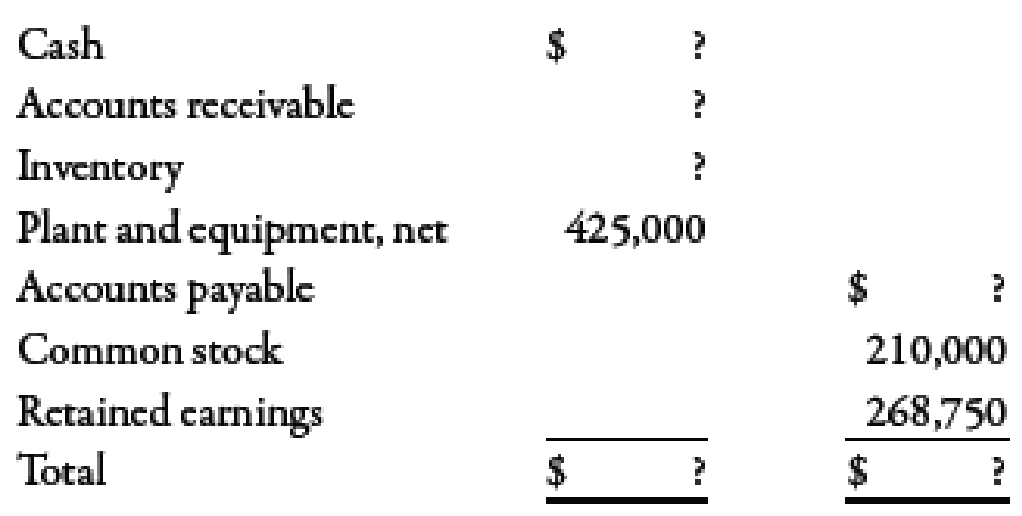 Required:
1. Complete the balance sheet given in Item j.
2. Prepare a cash budget for each month in the third quarter and for the quarter in total (the third quarter begins on July 1). Prepare a supporting schedule of cash collections.
3. Prepare a pro forma balance sheet as of September 30.
4. CONCEPTUAL CONNECTION Form a group with two or three other students. Discuss why a bank might require a cash budget for businesses that are seeking short-term loans. Determine what other financial reports might be useful for a loan decision. Also, discuss how the reliability of cash budgets and other financial information can be determined.