Electrophilic addition to an alkene proceeds via Markovnikov regiochemistry due to the formation of the more stable carbocation intermediate. In the case of conjugated dienes, that is dienes that are separated by one sigma bond, the carbocation that is formed is stabilized additionally by resonance. Addition of the nucleophile to the carbocation intermediate can therefore give two types of products: direct addition to the double bond, also called 1,2-addition, and conjugate addition to the resonance stabilized carbocation, also called 1,4-addition.
Allylic carbocation stability is affected by both the nature of the carbocation (primary allylic, secondary allylic, or tertiary allylic) and by the degree of substitution of the double bond. The latter is typically the dominant effect and so a primary allylic carbocation with a trisubstituted double bond is more stable than a tertiary allylic carbocation with a monosubstituted double bond.
Electrophilic addition to a conjugated diene is temperature dependent where reaction at or below room temperature typically leads to a mixture of products in which the 1,2 adduct (or direct addition product) predominates, this is termed kinetic control. At elevated temperatures the reactions have time to come to equilibrium and typically the 1,4 adduct (or conjugate addition product) will predominate, this is termed thermodynamic control.
Draw curved arrows to show the movement of electrons in this step of the mechanism.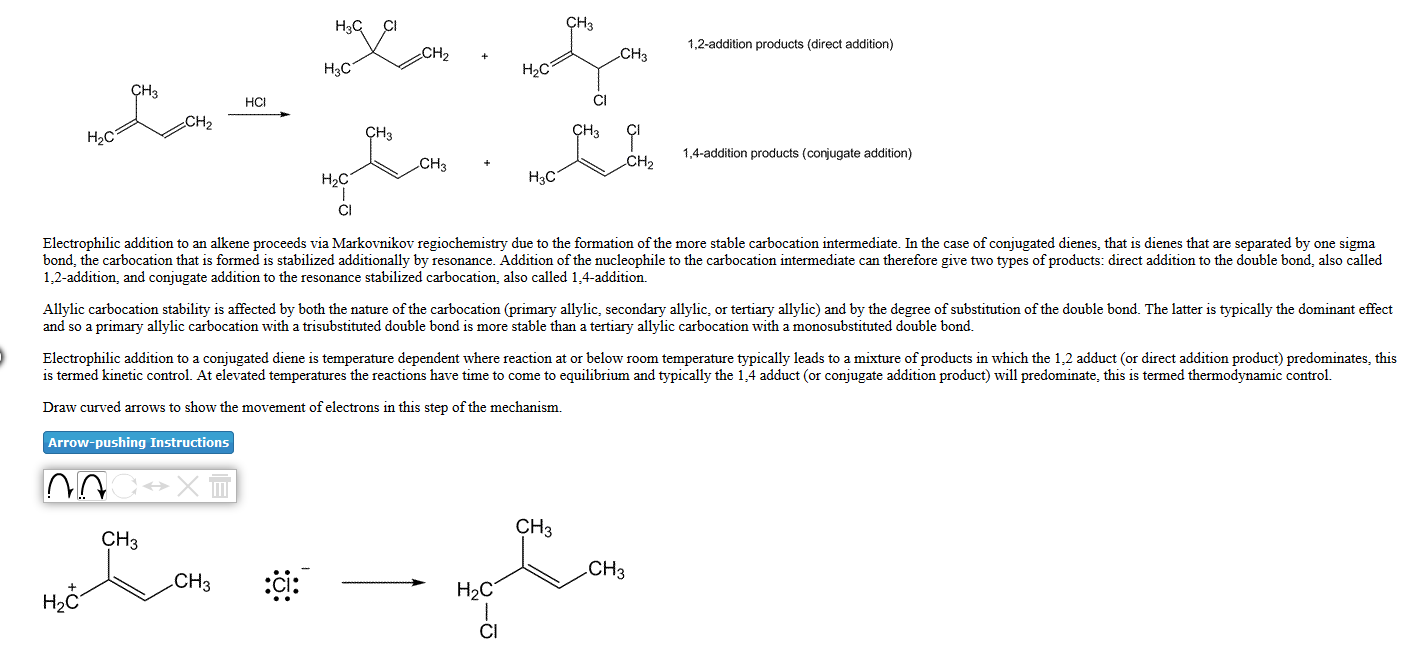 Students who've seen this question also like:
Chemistry
10th Edition
Author: Steven S. Zumdahl, Susan A. Zumdahl, Donald J. DeCoste
Publisher:
Cengage Learning
Want to see this answer and more?
Experts are waiting 24/7 to provide step-by-step solutions in as fast as 30 minutes!*
*Response times may vary by subject and question complexity. Median response time is 34 minutes for paid subscribers and may be longer for promotional offers.