A case study in the chapter analyzed purchasing-power parity for several countries using the price of Big Macs. Here are data for a few more countries: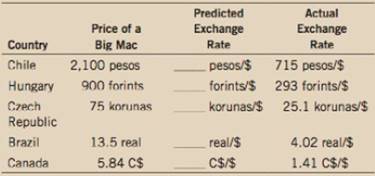 a. For each country, compute the predicted exchange rate of the local currency per U.S. dollar. (Recall that the U.S. price of a Big Mac was $4.93.)
b. According to purchasing-power parity, what is the predicted exchange rate between the Hungarian forint and the Canadian dollar? What is the actual exchange rate?
c. How well does the theory of purchasing-power parity explain exchange rates?