Alarming Eyespots Section 1.6 described how a peacock butterfly will, when threatened, open its wings to reveal two huge eyespots that are hidden when the butterfly is a t rest. By one hypothesis, eyespots frighten a predatory bird by mimicking the eyes or the bird's predators. Alternatively, the sudden appearance of the spots may act by simply startling the bird. To differentiate between these two possibilities, Martin Olofsson presented peacock butterflies with or without eyespots painted over to domestic chickens. He then recorded whether the chickens gave an alarm call that is normally given upon sighting a ground predator. FIGURE 43.9 shows the results.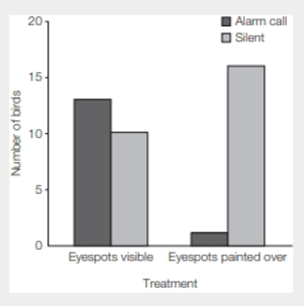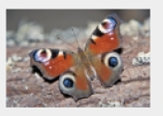 FIGURE 43.9 Response of domestic chicken to the defense display of a peacock butterfly (shown above). Butterflies were with or without eyespots painted over. All chickens were previously unfamiliar with these butterflies.
How did the number of alarm calls given differ when the butterflies' eyespots were hidden?