Bioaccumlation in tuna Bluefin tuna are among the fishes that were exposed to radioactive material released into the sea by the damaged Fukushima nuclear power plant (Section 47.1). These tuna breed in the western Pacific, and some migrate to the Eastern Pacific when they are 1 to 2 years old. Daniel Madigan suspected that migrating tuna would transport radioactive material to the waters off the coast of California. To test this hypothesis, he and his collaborators analyzed the concentration of cesium radioisotopes (137Cs and 134Cs) in bluefin tuna and yellowfin tuna caught near San Diego in August 2011. Yellowfin tuna do not cross the Pacific; they spend their lives in California's coastal waters. The scientists compared these data with the radioisotope content of bluefin tuna that had been caught near San Diego in 2008. FIGURE 48.9 shows their results.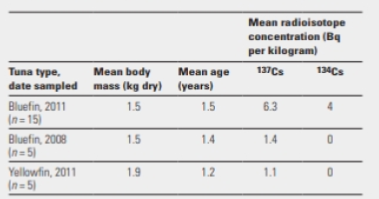 FIGURE 48.9 Radioactive cesium (Cs) concentration in two species of tuna caught along the coast of California.
137Cs has a half-life of 30 years and some persists in the Pacific from weapons testing. 134Cs has a half-life of 2 years and was undetectable in the Pacific prior to the accident at Fukushima. Becquerels (Bq) is a measure of radioactivity.
Does the data support the hypothesis that bluefin tuna transported radioisotopes from Fukushima in their body?