Assume the following fraction, by weight, of material in a refuse:

a. Estimate the in-place density of this refuse, using the bulk density values listed in Table 8-1.
b. If the following materials are recovered in a materials recovery operation, estimate the bulk density of the remaining refuse going to the landfill: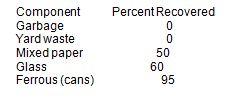 c. If the life of the landfill for
this community was originally calculated as 10 years, what is the expected life if the materials listed in pan (b) are recovered?