The narrative and systems flowchart for the Bridgeport LLC cash receipts system are included in Exhibit 9.5 and Figure 9.11 (p. 348), respectively.
EXHIBIT 9.5 Bridgeport LLC System Narrative to Accompany Problem 9-1
Bridgeport LLC uses the following procedures to process the cash received from credit sales. Customers send checks and remittance advices to Bridgeport. The mailroom clerk at Bridgeport endorses the checks and writes the amount paid and the check number on the remittance advice. Periodically, the mailroom clerk prepares a batch total of the remittance advices and sends the batch of remittance advices to accounts receivable, along with a copy of the batch total. At the same time, the clerk sends the corresponding batch of checks to the cashier.
In accounts receivable, a clerk enters the batch into the computer by keying the batch total, the customer number, the invoice number, the amount paid, and the check number. After verifying that the invoice is open and that the correct amount is being paid, the computer updates the accounts receivable master data. If there are any discrepancies, the clerk is notified.
At the end of each batch (or at the end of the day), the computer prints a deposit slip in duplicate on the printer in the cashier's office. The cashier compares the deposit slip to the corresponding batch of checks and then takes the deposit to the bank.
As they are entered, the check number and the amount paid for each receipt are logged on a disk. These event data are used to create a cash receipts listing at the end of each day. A summary of customer accounts paid that day is also printed at this time. The accounts receivable clerk compares these reports to the remittance advices and batch totals and sends the total of the cash receipts to the general ledger office.
FIGURE 9.11 Bridgeport LLC Systems Flowchart to Accompany Problem 9-1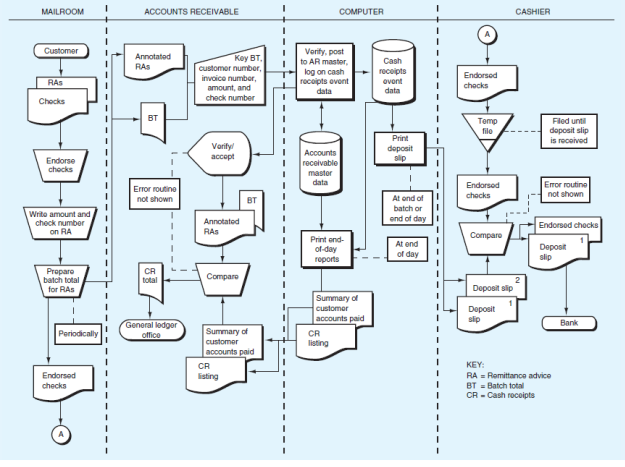 Using Exhibit 9.5 and Figure 9.11, do the following:
a. Prepare a control matrix, including explanations of how each recommended control plan helps to accomplish—or would accomplish in the case of missing plans—each related control goal. Your choice of recommended control plans should come from Figure 9.4 (p. 325)/Exhibit 9.3 (pp. 327–328) or Figure 9.6 (p. 333)/Exhibit 9.4 (p. 335), as appropriate. Be sure to tailor the matrix columns to conform to the specifics of the Bridgeport system. In doing so, assume the following two effectiveness goals only:
Timely deposit of checks
Compliance with compensating balance agreements with the depository bank
b. Annotate the systems flowchart in Figure 9.11 to show the location of each control plan listed in the control matrix.