Preparing a Statement of Cash Flows
Erie Company reported the following comparative balance sheets: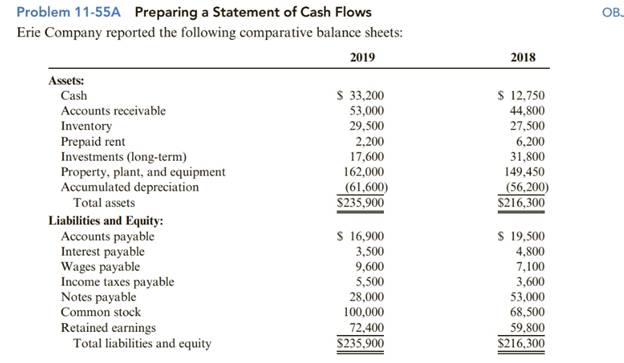 Additional Information:
1. Net income for 20l9 was $20,500.
2. Cash dividends of $7.900 were declared and paid during 2019.
3. Long-term investments with a cost of $28,600 were sold for cash at a gain of $4,100. Additional long-term investments were purchased for $14,400 cash.
4. Equipment with a cost of $14,800 and accumulated depreciation of $13,500 was sold for $3,800 cash. New equipment was purchased for $27,350 cash.
5. Depreciation expense was $18,900.
6. A principal payment of $25,000 was made on long-term notes.
7. Common stock was sold for $31,500 cash.
Required:
Prepare a statement of cash flows for Erie using the indirect method to compute net cash flow from operating activities.