Explanation
The given Figure is,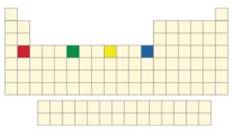 Figure 1
In the Figure 1, the elements shown are calcium, chromium, cobalt and zinc. The transition metals form colored compounds because of the presence of more number of valence electrons. In the given elements, calcium forms ions which form compound with chloride ion and give which is a colorless solid.
Chromium forms and ions which form compounds with ion and they are colored compounds. Zinc element form ions which form compound which is a colorless solid and cobalt also form colorless .
Hence, chromium forms colored compound with chloride ions.
Conclusion
The element that forms colored compounds with chloride ion is chromium.