In Raman scattering the states that generally exist are:
Ground state
Virtual state
Excited state
The ground state and excited states are the real states while the virtual state is an imaginary state. This imaginary state is actually used to couple the ground state and excited states as a reference.
In the below figure virtual stage is shown.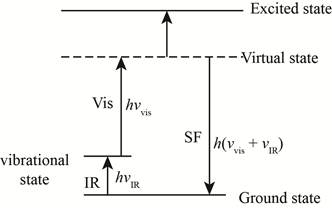 Figure-(1)
This involves the interaction of two simultaneous photons where the transition will be at the same level.
On the basis of the frequency of radiation from the source, the energy of the molecule can taken as any of an infinite number of values (virtual states) in between the ground state and the excited state.