18-53 In Chapter 27, we will study a metabolic pathway called the tricarboxylic acid cycle (TCA), also known as the citric acid or Krebs cycle. We have already seen examples of most of the reactions in this pathway. Following is an outline of the pathway beginning with the molecule for which the pathway is named. A particular enzyme that is highly speci?c catalyzes each of these reactions. Each enzyme-catalyzed reaction gives a high yield of the target molecule.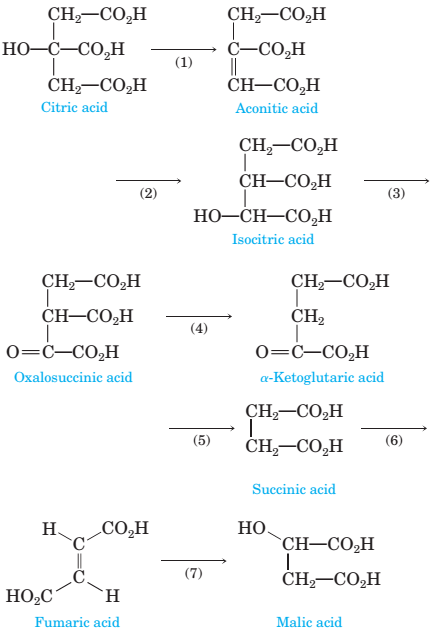 (a) Which of these TCA-cycle intermediates are chiral? Which intermediate has the greatest number of chiral centers? Which intermediates show cis-trans isomerism?
(b) Name the type of reaction that takes place in Steps 1-3.
(c) Notice that the hydration of aconitic acid to give isocitric acid does not follow Markovnikov's rule. If the hydration of aconitic acid were to follow Markovnikov's rule, what product would be formed? Offer an explanation for the formation of this non-Markovnikov product.
(d) What type of reactions take place in Steps 4-8?
(e) The only reaction we have not studied is Step 5. Because it involves a loss of CO2, it is classi?ed as a decarboxylation. Show that it also involves oxidation. Because it involves both oxidation and decarboxylation, it is classi?ed as an oxidative decarboxylation.
(f) Reaction 4 is also classi?ed as a decarboxylation. Does this decarboxylation also involve an oxidation?