Interpretation: To identify the first site where the breaking of polysaccharide glycosidic bonds occurs within the human body.
Concept introduction: Carbohydrates are the biomolecules composed of carbon, oxygen and hydrogen atoms. Carbohydrate molecules are joined together by glycosidic linkage. They are an important source of energy and thus, serve as an important part of human nutrients.
Monosaccharide, disaccharide, oligosaccharide, and polysaccharide are the classifications of carbohydrates. Monosaccharides are the simplest carbohydrate units that cannot be hydrolyzed further to give the smallest units. Disaccharides contain two monosaccharide units and on hydrolysis, it gives two monosaccharide units. Oligosaccharides contain three to ten monosaccharide units. Polysaccharides contain many carbohydrate units that vary from 100 to 50,000 monosaccharide units.
In the digestion process, the food molecules break down into small chemical units through hydrolysis. These small chemical units are used by cells present in the body for their metabolic processes. An overview of carbohydrate digestion in humans is as follows: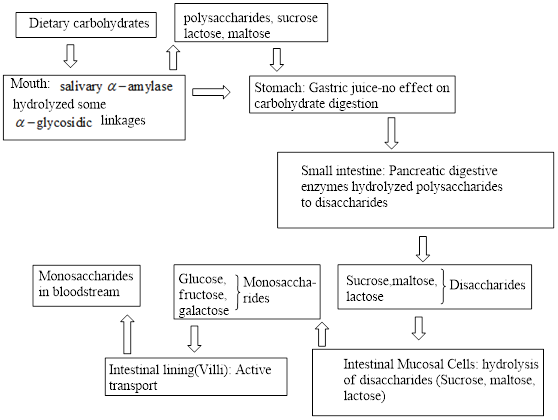 Saliva is a fluid secreted by the salivary glands. It contains 99% water, organic molecules, and a small amount of inorganic ions. is a constituent of saliva.